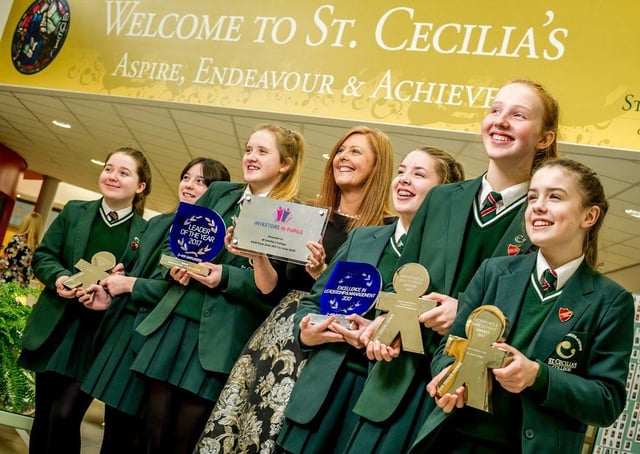 What an achievement!…. St Cecilia's Principal Martine Mulhern with pupils showcasing some of their previous awards.
St. Cecilia's College was presented with their Gold Award for Making a Difference – Secondary School of the Year, Supported by Future First on The One Show on BBC One this evening.
This focus on celebrating teaching comes at a time when people truly recognised the vital work that schools do on a daily basis.
The Catholic girls school was praised for having some of the best results in the UK despite being located in one of the "most disadvantaged areas of Northern Ireland".
Staff at the school were praised for creating opportunities, through bespoke partnership and collaboration programmes to inspire students to achieve qualifications, employability skills and the mind-set that will ultimately set them on the path of success.
The College's partnership with Lisneal College, the local Controlled School, in the Waterside was hailed as continuing to promote a vision for a shared future for their city.
Many of the Pearson National Teaching Award Gold Award winners, chosen from thousands of nominations, will receive national acclaim for their incredible work supporting students across the country. Each award winner has repeatedly gone above and beyond their role to change the lives of their students and help them move towards a brighter future.
The Pearson National Teaching Awards, which are now in their 22nd year, and are an annual celebration of exceptional teachers, founded in 1998 by Lord Puttnam to recognise the life-changing impact an inspirational teacher can have on the lives of the young people they teach.
St. Cecilia's College said it was so proud to be acknowledged in this way and said the award is in recognition for each and every member of staff, family and partner organisation who all put the success of our pupils first.
A spokesperson said: "Most of all it is recognition for our amazing girls in green. Their resilience, kindness and humour makes every day a blessing. Thank you to the Teaching Awards for this accolade and to all our classroom heroes, especially in these difficult times, you are all making a difference."
Alex Jones, Presenter of the One Show, said: "We are so thrilled to have the team from St. Cecilia's College on the show and to thank them for their incredible work! We all know the value of a great school, and St. Cecilia's College has proven themselves to be both outstanding and inspirational. There has never been a more important time to celebrate the hard work that happens in our schools across the country, and we are delighted to do our bit to thank them."
Michael Morpurgo, celebrated author and former Children's Laureate, and President of the Teaching Awards Trust, said: "We have long known the impact that one superb teacher can have, the young people they can inspire and the lives they can change. But this past year has shown us all, more than perhaps ever before, the true value of teachers.
"No one becomes a teacher for the applause it brings, and indeed too often it can feel a thankless role. That is why this coming week is so important. It is our opportunity to show our thanks, to praise their endeavours and to tell their stories."
Rod Bristow, President of Pearson UK, said: "Congratulations to St. Cecilia's College and all of our wonderful Gold Award winners on their success. They have all displayed the most fantastic dedication to this superb profession and truly deserve to have their hard work recognised in this way.
"We want staff in schools and colleges across the country to know much deeply we appreciate the work they do and the impact they have. More than ever before we have gained a real understanding of the incredible work school and college staff do every day, and we are delighted to have had this week celebrating them. They deserve nothing less."
Education Secretary Gavin Williamson said:"A massive congratulations to this year's gold award winners – teachers and school staff truly deserve the national recognition for the work they do to motivate, inspire and support pupils day in, day out.
"This year has been like no other, and it is because of schools' hard work that millions of pupils are able to be in the classroom receiving an outstanding education. I would like to thank every single teacher and staff member for what they have done for our children."
Lorraine Langham, Chief Executive of Future First, the education charity which sponsored this award, said: "St. Cecilia's College has achieved something very special by winning this prestigious award in such a competitive and impressive field. It just goes to show how much wonderful teaching is going on across the country despite the terribly difficult circumstances as a result of the pandemic.
"Future First's vision is for a world where a young person's start in life does not limit their future. Our work helps schools harness the power of alumni networks, which can really motivate and inspire students and keep them engaged with their learning at this difficult time".